Beneficiaries of Higher Education Loans Board, Helb, funding would pay reduced loan interest rates if a Bill by Hon Gideon Keter (who is a Jubilee Party nominated Member of Parliament represent Youth interests in the National Assembly) sails through.
Interest charged on university and college student loans will be cut to 3% and the grace period for repayment increased to five years after graduation if lawmakers approve changes to the Higher Education Loans Board (Helb) Act.
Under the proposed law, interest on the loans will fall from 4% to cushion jobless graduates from the Sh5,000 monthly fine for defaults.
"The aim of this proposals is to reduce the financial burden on recent graduates who are expected to pay large sums of money to Helb even before securing employment or becoming financially stable…… It sets the percentage of interest that may be charged on the loan advanced at three percent. It also provides that the penalty charged on defaulting of the loan shall be charged after securing employment or five years after completion of studies." Reads the bill that was tabled in Parliament.
The agency in January this year said it was pursuing some 78,328 defaulters holding Sh7.7 billion as at December 31 last year (2019).
If passed, the new law will provide a big relief to thousands of unemployed youths who have hge Helb loan balances to clear.
There has been a sharp increase in university enrollment, since 2014, a scenario that has seen rise in demand for loans.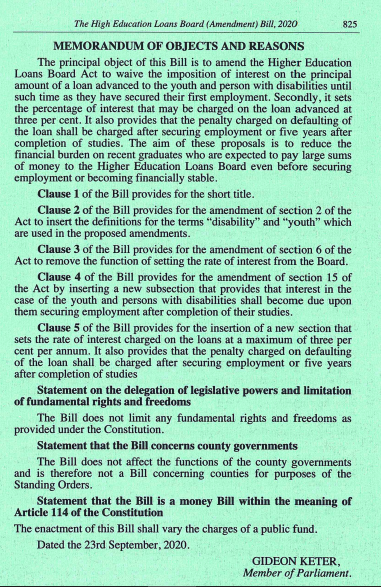 In line with the current Cost Sharing Policy, where Government sponsored students receive about 80% GoK subsidy, HELB can therefore award a maximum loan of Sh60,000 and a maximum bursary of Sh.8,000.
See also;