Education Cabinet Secretary Professor George Magoha has said schools will remain open for class 8, form 4 and grade 4 learners. This is despite the rising numbers of new corona virus disease cases being recorded lately.
The CS who was speaking in Kakamega County on Friday when he visited schools in the area to assess supply of desks under the locally Assembled desk for schools stimulus project by the Government.
He said the few recorded cases are manageable and each of them will be dealt with independently.
But even as CS Magoha put up a brave face on Friday, the biggest worry is the realization that the disease is slowly finding its way into schools; as learners and teachers fall victim. Already, a teacher at Kiambu County has succumbed to the disease. Two schools in Mombasa County have since been closed after recorded cases of covid 19. Star of the Sea and Tononoka high schools were shut on Monday with learners and teachers told to stay away for two weeks.
Parents at Star of the Sea High School were told that school operations would resume on November 2; after measures to curb spread of the disease have been put in place.
"This is to inform you that school operations have been suspended from today, Monday October 19, to allow fumigation. Normal operations will resume on November, 2." Read a memo by the school dispatched to parents.
A teacher at Mama Ngina Primary School in Kiambu County succumbed as a result of covid19 related complications; with those said to have come into close contact with the teacher sent into isolation. St. Peters Mumias Boys High School in Kakamega County also joins the list of schools that have recorded cases of Covid19.
"We have had small pockets of outbreaks in places such as Mombasa, which have necessitated certain actions, for example the closure of schools for two weeks, but we are happy nothing serious has happened," Magoha explained.
"We are happy that we reopened schools for three million of our children in Grade Four, Standard Eight and Form Four. We are also very happy to announce that nothing major has happened that can shake our resolve." He added.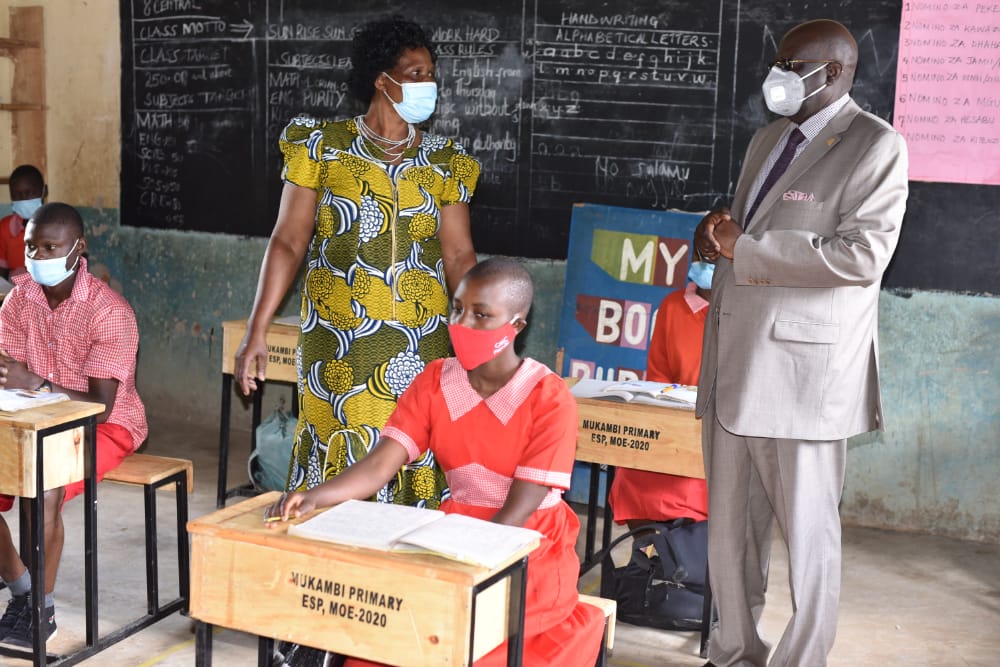 Magoha said learners in grade 1-3, class 5-7 and form 1-3 will continue remaining at home as the government assess the situation in schools; adding that his Ministry had not stated the exact reopening dates for these learners.
"That date of October 26 belonged to the media. What we said is that we were going to monitor how everything is going and shall make an announcement in consultation with the Interior and Health ministries." He clarified.
"We are auditing processes that took place over the last two weeks. Any decision to be made will be based on facts. Nobody is thinking of closing schools again and nobody is thinking of rushing to reopen the others." Further said CS Magoha.
But, it is clearly evident that plans to fully reopen schools will further be hampered by inadequate infrastructure in most schools. On Thursday, Education Chief Administrative Secretary Zack Kinuthia said there will be no rushed reopening of schools for the remaining learners.
"The health of our children is paramount. We believe schools are able to control the Grade 4, Standard 8 and Form 4 learners but the rest of the children may have to wait a little longer." Said Kinuthia, on Thursday.
See also;