If you thought you are suffering due to the covid 19 pandemic as a result of the ripple effects caused by the covid 19 pandemic and you are still earning, just sit back and think of millions of Kenyans who have lost jobs or whose pay has been suspended. This is the scenario facing the teachers employed by Boards of Management (BOMs) and private schools. Days, and now months, have passed without these teachers laying sight on their salaries.
Imagine having a family to support, a myriad of basic needs to meet and to make matters worse living in a town (with no side hustle!). This is like living in hell on earth.
The last time some of these teachers earned was back in December, 2019! And with schools closed as a result of the covid 19 pandemic it has become practically impossible for school heads to meet the salary demands for the tutors plus other support staff. School management boards have since sent them on unpaid leave; until normalcy reigns.
Attempts by these teachers to have the attention of the education ministry's cabinet secretary have been an exercise in futility. Elected leaders have turned a deaf ear on them.
GOVERNMENT FUNDS FOR VULNERABLE GROUPS
The government has been disbursing Sh1000 weekly to each family under the government cash transfer program for those identified as vulnerable. The cash is to enable them meet their basic needs during the period of the COVID-19 pandemic. There have been calls to integrate BOM and private schools' teachers into the programme.
Going without cash for close to one year (given that the earliest schools can be reopened is September) is tricky. Someone needs to come to the aid of these teachers.
KUPPET WADES INTO BOM TEACHERS' SALARY CIRCUS
The Kenya Union of Post Primary Education Teachers (KUPPET) has waded into the debate; asking the government to pay the over 72,000 teachers working on BOM terms.
"Since the first case of Covid19 in Kenya was announced on 13th March 2020 subsequent closure of schools on 15th March 2020, about 72,000 workforces of teachers comprising of what is commonly referred to as Board of Management (BOM) teachers lost their jobs," says kuppet national chairman Omboko Milemba.
He wonders why the ministry of education ordered for the reimbursement of Sh720 million unused activity money that had been sent to public schools; adding that the money could have been utilized to pay salaries for staff at school level.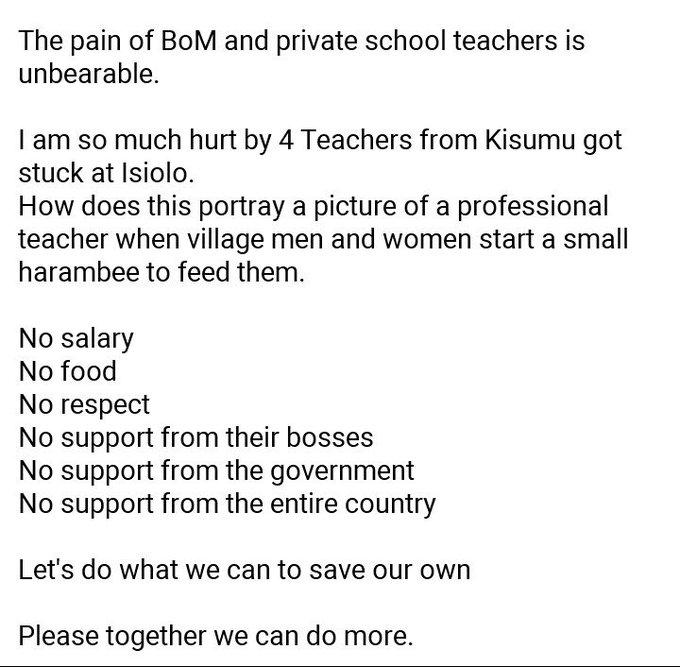 Cash for the BOM teachers has been coming through the ministry's fees capitation. And since the money is budgeted for, it would be prudent for the government to release the portion of the Personal Emoluments vote head to cushion the BOM staff.
Also read;
KENYANS ONLINE ROUTE FOR PAYMENT OF BOM TEACHERS' SALARIES
Here are sampled comments on salaries for BOM and private schools' teachers (as shared on social media);
Irony Lady: "Its so sad seeing private and BoM teachers sink into depression. November and December they weren't paid. Reason schools closed early and salary depends on school fees. From march up to date reason salary depends on school fees and corona. Why us?"
Mayaka Zachaeus: "The situation for BOM and private school teachers is worse than COVID 19."
Chela: "The government has neglected hardworking teachers who are under BOM and Private schools. President Uhuru Kenyatta and ministry of Education should intervene on this since they are helping a Kenya child."
Ng'iela David: "BOM as well as PTAs have employed over 500k teachers. Majority of these ,have not received salaries. We request to be included in the list of the vulnerable Kenyans.We can no longer offer our services in this country.Not even to our neighbour's kids."
Pius Sigei: "Mr president, kindly listen to everyone who is at distress during this Covid19 pandemic more so BOM teachers and those who teach in private schools. Please and kindly."
F. Onyango: "Mr President please mind BOM and Private school teachers.They are also booster of Kenyan economy."