Borrowers have been met by a rude shock after lending institutions set tough conditions for one to access deferment on loan repayment. To get the repayment reprieve during these tough economic times (occasioned by the Covid-19 pandemic), some lending institutions have asked borrowers seeking to defer repayment of their loans to provide letters from employers showing proof of salary cuts or job termination; as a condition to be considered for the relief.
"You may visit any nearest branch to request for a loan relief through our loan officers. You will require a letter from your employer indicating a salary cut or job termination," says one of the lenders to its customer.
This has dimmed prospects for most borrowers who had hopped to get the much needed financial relief.
"Struggling to pay your credit card bill? We are offering a 3 months repayment relief, kindly sms your ID number to 22268 before 23 April 2020 or talk to us on 0722 130 120 or 020 3900000 for other tailor made solutions," reads another memo by Absa Bank Kenya.
"We are also offering tailor made solutions for your business such as, loan restructuring to reduce your monthly commitments and extend your loan period," adds the bank.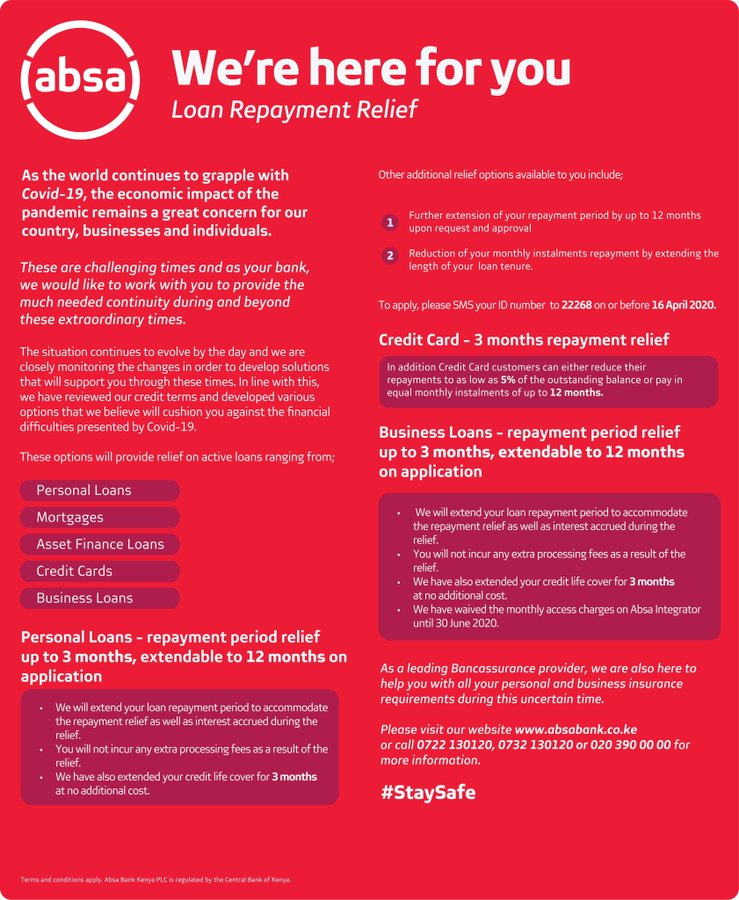 To ease the burden on borrowers, the Central Bank of Kenya has already lowered its base lending rate to 7.5%. This is in a bid to make loans cheaper for Kenyans.
This new requirement by some banks will certainly turn off most borrowers yearning for loan repayment deferrals.
But all is not lost as the government has stepped in to reduce the Pay As Your Earn Tax to 25% from 30%; for most earners.
---
Important news. Just for you, click on the links below;